Choose a 100% Qualified Driver and Vehicle Standards Agency Approved Instructor
All Diamond Driving School Instructors display a green DVSA (Driver and Vehicle Standards Agency) badge in their windscreen to prove they´ve completed 12 to 18 months of training, and passed an exam testing their ability to teach you. On the other hand, a licenced trainee instructor, who will display a pink badge, may have had as little as four months´ training, with no formal qualifications to teach learner drivers.
Instructors legally have to display one of the following badges in their windscreen: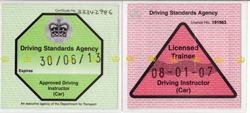 Our Mission Statement
The purpose of Diamond Driving School is to provide high quality driver education in combination with unrivalled customer service.
• We will distinguish our self from competitors by providing excellent and unrivalled customer services.
• The office staff will endeavour to answer all customer calls in person between 9.00am and 7.00pm Monday to Saturday.
• Instructors will endeavour to arrive at lesson appointment time at least 95% of the time or offer an apology.
• Instructors will offer an interactive recap of previous lesson to set a base line for tuition.
• Instructors will state firm aims and objectives for the current lesson so the pupil is in no doubt as to the purpose of the lesson and what they are trying to achieve from the session.
• Instructors will teach in a non-confrontational manner.
• Instructors will offer feedback and encouragement linked to specific areas of development.
• Instructors will interactively summarise the lesson so pupil is fully aware of strengths and weaknesses and whether the objective was achieved.
• Instructors will endeavour to reply to text messages and calls from customers as soon as possible and the very least the same day.
• Instructors will keep tuition vehicle in a reasonably clean and tidy condition that reflects the branding and professional image of the driving school.
• Instructors will ensure that personal hygiene is of the highest order including body odour and bad (coffee/cigarette) breath.
• Instructors will ensure that customers receive a copy of the pricing structure, clearly stating which option has been chosen.